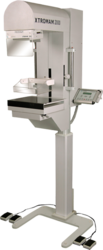 Product Description
We are year 1989 established company, engaged in manufacturingand supplying XTROMAM 2000 HF X Ray Unit. It involves use of 200 APR programsthrough which technic and AMs can automatically be selected by touching bodypart. Different radiography settings are provided for average, and fattypatients. Apart from this. It also has facility to reprogram each key atcustomers place according to their requirements. XTROMAM 2000 HF X Ray Unit has12 APR keys for user defined settings and it also possesses different settingsfor lateral as well as oblique positions.
Features:
ÂÂÂÂ
Illuminated LCD display
Exposure counter
Self diagnostic error indiaction
ÂÂÂÂ
ÂÂÂÂ
Xtromam 2000 - HF
State-of-the–art microcontroller-based High Frequency MAMMOGRAPHY X-RAY SYSTEM with facilities for Normal, Spot, Magnified and Biopsy X-Rays.
Indigenous High Frequency technology.
Dual fine focus 0.3 mm and 0.1 mm world-class dedicated Mammography X-Ray tube guarantees high quality, high resolution Mammography X-Rays to detect micro-calcification.
Manual as well as semi and fully Automatic Exposure Controller (AEC) mode.
5 position solid state sensors for AEC, selects kV and exposure time automatically.
2 in 1 Bucky with reciprocating grid.
Isocentric techniques for less patient repositioning thus reducing treatment times.
Foot-switch operated motorized column-carriage and motorized compression device for precise, effortless patient positioning.
Facility of manual decompression in case of power failure for patient's safety.
Compact stand-alone unit with in-built console for installation even in small areas.
Computerised Radiography (CR) Compatible System.
AERB APPROVED X-RAY UNITS.
Contact Us
215,216 Bussa Udyog Bhavan, T. J. Road, Sewri West, Mumbai, Maharashtra, 400015, India
Phone :+918061881722